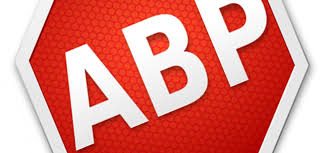 Tired of ads in facebook?
Tired of ads on the websites that you visit frequently?
After about a week of surfing, and blocking ads, AdBlock Plus, has made my internet experience MUCH more efficient. It can be this way for you as well!
If you install AdBlock Plus, go to Options, and then Customize, click on the edit button, and you will have a textbox that paste the code that is on this page.
Not only will this eliminate 90% of the ads on Facebook, it will also remove the "suggested videos" when you like a video. This code will remove the ads on the right side of Facebook, making your social media experience MUCH MORE cleaner and less distracting.
I would encourage everyone to install this plug in, (and it comes for all browsers), use the codes that i have provided, and start surfing the web without being distracted.
You can download Adblock for:
Enjoy the web. Ad free![/vc_column_text][/vc_column][vc_column width="1/2″][vc_column_text]facebook.com##div.pal.megaphone_box
facebook.com##div.clearfix.shareFooter
facebook.com##div._5mym
facebook.com##div#u_12_1
facebook.com##div#u_18_0
facebook.com##div#u_f_0
facebook.com##div#u_b_0
facebook.com##div#u_k_0
facebook.com##div#u_q_0
facebook.com##div#u_f_1
facebook.com##div#u_h_0
facebook.com##div#u_ps_jsonp_8_1_0
plus.google.com##DIV[class="zhMuaf Tp6dle"]
A[class="a-j c-i-j-ua tg3b4c qQWXrb g2Lc3b dfrbjb"]
@@|http://*.hulu.com
@@|https://www.google.com/analytics/web/?$document
www.facebook.com##DIV[id="u_12_0"][class="ego_section"]
www.facebook.com##DIV[id="u_33_0"][class="ego_section"]
facebook.com##DIV[id="u_q_0"][class="ego_section"]
facebook.com##DIV[id="u_18_0"][class="ego_section"]
facebook.com##DIV[id="u_f_0"][class="ego_section"]
facebook.com##DIV[id="u_b_0"][class="ego_section"]
facebook.com##DIV[id="u_k_0"][class="ego_section"]
mail.google.com##DIV[class="mq"]
www.facebook.com##DIV[id="u_ps_0_2_0"][class="ego_section"]
www.facebook.com##DIV[id="u_ps_0_2_1"][class="ego_section"]
www.facebook.com##DIV[id="u_ps_0_2_2"][class="ego_section"]
www.facebook.com##DIV[class="_5mym"]
www.facebook.com##DIV[id="u_ps_0_1_0"][class="ego_section"]
www.facebook.com##DIV[class="mvs _5j5u _5jqk clearfix"]
www.facebook.com##DIV[id="u_jsonp_5_j"][class="ego_section"]
www.facebook.com##DIV[id="u_0_2p"][class="ego_section"]
www.facebook.com##DIV[id="u_jsonp_3_a"][class="ego_section"]
www.facebook.com##DIV[id="u_jsonp_32_d"][class="ego_section"]
www.facebook.com##DIV[id="u_jsonp_32_c"][class="ego_section"]
www.facebook.com##DIV[id="u_jsonp_32_b"][class="ego_section"]
www.facebook.com##DIV[id="u_ps_jsonp_12_1_0"][class="ego_section"]
www.facebook.com##DIV[id="u_jsonp_7_i"][class="ego_section"]
www.facebook.com##DIV[id="u_jsonp_3_8"][class="ego_section"]
www.facebook.com##DIV[id="u_jsonp_10_1m"][class="ego_section"]
www.facebook.com##DIV[id="u_jsonp_10_1l"][class="ego_section"]
www.facebook.com##DIV[id="u_1v_0"][class="ego_section"]
www.facebook.com##DIV[id="u_jsonp_10_h"][class="ego_section"]
www.facebook.com##DIV[class="_5ms_"]
www.facebook.com##DIV[id="u_jsonp_21_s"][class="ego_section"]
www.facebook.com##DIV[id="u_jsonp_22_2a"][class="ego_section"]
www.facebook.com##DIV[id="u_jsonp_27_c"][class="ego_section"]
www.facebook.com##DIV[id="u_jsonp_28_e"][class="ego_section"]
www.facebook.com##DIV[id="u_jsonp_29_g"][class="ego_section"]
www.facebook.com##DIV[id="u_jsonp_29_1j"][class="ego_section"]
www.facebook.com##DIV[id="u_jsonp_34_1d"][class="ego_section"]
www.facebook.com##DIV[id="u_jsonp_35_1i"][class="ego_section"]
www.facebook.com##DIV[id="u_jsonp_35_f"][class="ego_section"]
www.facebook.com##DIV[id="u_0_34"][class="ego_section"]
www.facebook.com##DIV[id="u_0_1u"][class="ego_section"]
www.facebook.com##DIV[id="u_jsonp_4_9"][class="ego_section"]
www.facebook.com##DIV[id="u_jsonp_2_a"][class="ego_section"]
www.facebook.com##DIV[id="u_ps_jsonp_3_1_0"][class="ego_section"]
www.facebook.com##DIV[id="u_jsonp_5_f"][class="ego_section"]
www.facebook.com##DIV[id="u_jsonp_5_1i"][class="ego_section"]
www.facebook.com##DIV[id="u_jsonp_7_9"][class="ego_section"]
www.facebook.com##DIV[id="u_ps_jsonp_15_1_0"][class="ego_section"]
www.facebook.com##DIV[id="u_ps_jsonp_15_1_1"][class="ego_section"]
www.facebook.com##DIV[id="u_jsonp_5_b"][class="ego_section"]
www.facebook.com##DIV[id="u_jsonp_5_c"][class="ego_section"]
www.facebook.com##DIV[id="u_jsonp_10_b"][class="ego_section"]
www.facebook.com##DIV[id="u_jsonp_3_30"][class="ego_section"]
www.facebook.com##DIV[class="_5pcr"]
www.facebook.com##DIV[id="u_jsonp_12_g"][class="ego_section"]
www.facebook.com##DIV[id="u_jsonp_6_c"][class="ego_section"]
www.facebook.com##DIV[id="u_0_2d"][class="ego_section"]
www.facebook.com##DIV[id="u_0_2e"][class="ego_section"]
www.facebook.com##DIV[id="u_ps_jsonp_18_1_0"][class="ego_section"]
www.facebook.com##DIV[id="u_ps_jsonp_9_1_0"][class="ego_section"]
www.facebook.com##DIV[id="u_jsonp_11_a"][class="ego_section"]
www.facebook.com##DIV[id="u_ps_jsonp_14_1_0"][class="ego_section"]
www.facebook.com##DIV[id="u_jsonp_16_a"][class="ego_section"]
www.facebook.com##DIV[id="u_ps_jsonp_17_1_0"][class="ego_section"]
www.facebook.com##DIV[id="u_ps_jsonp_17_1_1"][class="ego_section"]
www.facebook.com##DIV[id="u_ps_jsonp_24_1_0"][class="ego_section"]
www.facebook.com##DIV[id="u_ps_jsonp_24_1_1"][class="ego_section"]
www.facebook.com##DIV[id="u_jsonp_27_1v"][class="ego_section"]
www.facebook.com##DIV[id="u_jsonp_32_a"][class="ego_section"]
www.facebook.com##DIV[id="u_ps_jsonp_33_1_0"][class="ego_section"]
www.facebook.com##DIV[id="u_ps_jsonp_33_1_1"][class="ego_section"]
www.facebook.com##DIV[id="u_jsonp_9_9"][class="ego_section"]
www.facebook.com##DIV[id="u_jsonp_34_b"][class="ego_section"]
www.facebook.com##DIV[id="u_jsonp_2_1l"][class="ego_section"]
www.facebook.com##DIV[id="u_jsonp_2_b"][class="ego_section"]
www.facebook.com##DIV[id="u_ps_jsonp_19_1_0"][class="ego_section"]
www.facebook.com##DIV[id="u_jsonp_2_h"][class="ego_section"]
www.facebook.com##DIV[id="u_jsonp_2_1h"][class="ego_section"]
www.facebook.com##DIV[id="u_u_0"][class="ego_section"]
www.facebook.com##DIV[id="u_ps_jsonp_2_1_0"][class="ego_section"]
www.facebook.com##DIV[id="u_jsonp_3_h"][class="ego_section"]
www.facebook.com##DIV[id="u_jsonp_3_1h"][class="ego_section"]
www.facebook.com##DIV[id="u_0_23"][class="ego_section"]
www.facebook.com##DIV[id="u_0_3r"][class="ego_section"]
www.facebook.com##DIV[id="u_ps_jsonp_6_1_0"][class="ego_section"]
www.facebook.com##DIV[id="u_ps_jsonp_4_2_0"][class="ego_section"]
www.facebook.com##DIV[id="u_jsonp_6_5"][class="ego_section"]
www.facebook.com##DIV[id="u_ps_jsonp_7_2_0"][class="ego_section"]
www.facebook.com##DIV[id="u_ps_jsonp_21_2_0"][class="ego_section"]
www.facebook.com##DIV[id="u_ps_0_3_0"][class="ego_section"]
www.facebook.com##DIV[id="u_ps_0_3_1"][class="ego_section"]
www.facebook.com##DIV[id="u_ps_jsonp_11_2_0"][class="ego_section"]
www.facebook.com##DIV[id="u_ps_jsonp_9_2_0"][class="ego_section"]
www.facebook.com##DIV[id="u_ps_jsonp_9_2_1"][class="ego_section"]
www.facebook.com##DIV[id="u_0_2a"][class="ego_section"]
www.facebook.com##DIV[id="u_0_2n"][class="ego_section"]
www.facebook.com##DIV[id="u_ps_jsonp_8_2_0"][class="ego_section"]
www.facebook.com##DIV[id="u_jsonp_10_25"][class="ego_section"]
www.facebook.com##DIV[id="u_jsonp_10_26"][class="ego_section"]
www.facebook.com##DIV[id="u_jsonp_13_3"][class="ego_section"]
www.facebook.com##DIV[class="_5ms_ pagelet"]
www.facebook.com##DIV[id="u_jsonp_2_19"][class="ego_section"]
www.facebook.com##DIV[id="u_jsonp_2_g"][class="ego_section"]
www.facebook.com##DIV[id="u_ps_jsonp_2_2_0"][class="ego_section"]
www.facebook.com##DIV[id="u_jsonp_2_8"][class="ego_section"]
www.facebook.com##DIV[id="u_jsonp_3_b"][class="ego_section"]
www.facebook.com##DIV[id="u_jsonp_3_9"][class="ego_section"]
www.facebook.com##DIV[id="u_jsonp_11_8"][class="ego_section"]
www.facebook.com##DIV[id="u_ps_jsonp_12_2_0"][class="ego_section"]
www.facebook.com##DIV[id="u_ps_jsonp_12_2_1"][class="ego_section"]
www.facebook.com##DIV[id="u_jsonp_14_1l"][class="ego_section"]
www.facebook.com##DIV[id="u_jsonp_6_0"][class="_64b"]
www.facebook.com##DIV[id="u_jsonp_7_b"][class="ego_section"]
www.facebook.com##DIV[id="u_jsonp_4_c"][class="ego_section"]
www.facebook.com##DIV[id="u_jsonp_4_b"][class="ego_section"]
www.facebook.com##DIV[id="u_ps_jsonp_5_2_0"][class="ego_section"]
www.facebook.com##DIV[id="u_jsonp_11_b"][class="ego_section"]
www.facebook.com##DIV[id="u_ps_jsonp_4_2_1"][class="ego_section"]
www.facebook.com##DIV[id="u_jsonp_10_g"][class="ego_section"]
www.facebook.com##DIV[id="u_ps_jsonp_13_2_1"][class="ego_section"]
www.facebook.com##DIV[id="u_ps_jsonp_13_2_0"][class="ego_section"]
www.facebook.com##DIV[id="u_jsonp_8_a"][class="ego_section"]
www.facebook.com##DIV[id="u_jsonp_12_c"][class="ego_section"]
www.facebook.com##DIV[id="u_jsonp_4_1j"][class="ego_section"]
www.facebook.com##DIV[id="u_jsonp_4_1k"][class="ego_section"]
www.facebook.com##DIV[id="u_ps_jsonp_41_2_0"][class="ego_section"]
www.facebook.com##DIV[id="u_jsonp_4_g"][class="ego_section"]
www.facebook.com##DIV[id="u_0_2h"][class="ego_section"]
www.facebook.com##DIV[id="u_0_40"][class="ego_section"]
www.facebook.com##DIV[id="u_0_2t"][class="ego_section"]
www.facebook.com##DIV[id="u_jsonp_24_h"][class="ego_section"]
www.facebook.com##DIV[id="u_jsonp_24_1h"][class="ego_section"]
www.facebook.com##DIV[id="u_jsonp_24_1i"][class="ego_section"]
www.facebook.com##DIV[id="u_jsonp_24_1j"][class="ego_section"]
www.facebook.com##DIV[id="u_jsonp_2_1s"][class="ego_unit"]
www.facebook.com##DIV[id="u_jsonp_2_1r"][class="ego_unit"]
www.facebook.com##DIV[id="u_jsonp_2_1t"][class="ego_unit"]
www.facebook.com##DIV[id="u_6m_2"][class="ego_unit"]
www.facebook.com##DIV[id="u_6m_3"][class="ego_unit"]
www.facebook.com##DIV[id="u_6m_4"][class="ego_unit"]
www.facebook.com##DIV[id="u_6m_5"][class="ego_unit"]
www.facebook.com##DIV[id="u_6m_6"][class="ego_unit"]
www.facebook.com##DIV[id="u_6m_7"][class="ego_unit"]
www.facebook.com##DIV[id="u_76_2"][class="ego_unit"]
www.facebook.com##DIV[id="u_76_3"][class="ego_unit"]
www.facebook.com##DIV[id="u_76_4"][class="ego_unit"]
www.facebook.com##DIV[id="u_76_5"][class="ego_unit"]
www.facebook.com##DIV[id="u_76_6"][class="ego_unit"]
www.facebook.com##DIV[id="u_76_7"][class="ego_unit"]
www.facebook.com##DIV[id="u_81_4"][class="ego_unit"]
www.facebook.com##DIV[id="u_81_2"][class="ego_unit"]
www.facebook.com##DIV[id="u_81_5"][class="ego_unit"]
www.facebook.com##DIV[id="u_81_6"][class="ego_unit"]
www.facebook.com##DIV[id="u_81_7"][class="ego_unit"]
www.facebook.com##DIV[class="_4-u2 mvm _54bx _54bz clearfix"]
www.facebook.com##DIV[class="_4-u2 mvm _495i"]
www.facebook.com##DIV[id="u_jsonp_3_d"][class="ego_section"]
www.facebook.com##DIV[id="u_1n_0"][class="ego_section"]
www.facebook.com##DIV[id="u_ps_jsonp_3_2_0"][class="ego_section"]
www.facebook.com##DIV[id="u_jsonp_5_1r"][class="ego_section"]
www.facebook.com##DIV[class="escapeHatchMinimal _4__g _32jy"]
www.facebook.com##DIV[id="u_ps_jsonp_6_2_0"][class="ego_section"]
www.facebook.com##DIV[id="u_jsonp_7_p"][class="ego_section"]
www.facebook.com##DIV[id="u_jsonp_2_1p"][class="ego_section"]
www.facebook.com##DIV[id="u_jsonp_3_1x"][class="ego_section"]
www.facebook.com##DIV[id="u_jsonp_3_1o"][class="ego_section"]
www.facebook.com##DIV[id="u_jsonp_3_1p"][class="ego_section"]
www.facebook.com##DIV[id="u_jsonp_3_1q"][class="ego_section"]
www.facebook.com##DIV[id="u_jsonp_6_b"][class="ego_section"]
www.facebook.com##DIV[id="u_jsonp_22_n"][class="ego_section"]
www.facebook.com##DIV[id="u_jsonp_2_c"][class="ego_section"]
www.facebook.com##DIV[id="u_ps_jsonp_6_2_2"][class="ego_section"]
www.facebook.com##DIV[id="u_ps_jsonp_5_2_1"][class="ego_section"]
www.facebook.com##DIV[class="_4-u2 mbm phm"]
www.facebook.com##DIV[id="u_jsonp_3_l"][class="ego_section"]
www.facebook.com##DIV[id="u_jsonp_5_4r"][class="ego_section"]
www.facebook.com##DIV[id="u_jsonp_5_4s"][class="ego_section"]
www.facebook.com##DIV[id="u_ps_0_3_2"][class="ego_section"]
www.facebook.com##DIV[id="u_jsonp_5_1n"][class="ego_section"]
www.facebook.com##DIV[id="u_jsonp_5_1u"][class="ego_section"]
www.facebook.com##DIV[id="u_jsonp_6_k"][class="ego_section"]
www.facebook.com##DIV[id="u_3r_0"][class="ego_section"]
mail.google.com##DIV[class="oM"]
www.facebook.com##DIV[id="u_jsonp_6_h"][class="ego_section"]
www.facebook.com##DIV[id="u_2t_0"][class="ego_section"]
www.facebook.com##DIV[id="u_3d_0"][class="ego_section"]
www.facebook.com##DIV[id="u_3j_0"][class="ego_section"]
www.facebook.com##DIV[id="u_3p_0"][class="ego_section"]
www.facebook.com##DIV[id="u_3v_0"][class="ego_section"]
www.facebook.com##DIV[id="u_40_0"][class="ego_section"]
www.facebook.com##DIV[id="u_44_0"][class="ego_section"]
www.facebook.com##DIV[id="u_4c_0"][class="ego_section"]
www.facebook.com##DIV[id="u_ps_jsonp_27_2_0"][class="ego_section"]
www.facebook.com##DIV[id="u_jsonp_3_4s"][class="ego_section"]
www.facebook.com##DIV[id="u_jsonp_13_4k"][class="ego_section"]
www.facebook.com##DIV[id="u_jsonp_2_7"][class="ego_section"]
www.facebook.com##DIV[id="u_ps_jsonp_15_0_0"][class="ego_section"]
www.facebook.com##DIV[id="u_jsonp_3_4c"][class="ego_section"]
www.facebook.com##DIV[class="uiHeader uiHeaderTopBorder mbm pbs uiSideHeader _5cqe"]
www.facebook.com##DIV[class="_5cqf"]
www.facebook.com##A[class="pam uiBoxLightblue uiMorePagerPrimary"]
www.facebook.com##DIV[class="_5g-l"]
www.facebook.com##DIV[id="event_related_events"]
www.facebook.com##DIV[id="u_ps_jsonp_18_2_0"][class="ego_section"]
www.facebook.com##DIV[id="u_jsonp_8_d"][class="ego_section"]
www.facebook.com##DIV[id="u_jsonp_15_k"][class="ego_section"]
www.facebook.com##DIV[id="u_jsonp_15_e"][class="ego_section"]
www.facebook.com##DIV[id="u_0_35"][class="ego_section"]
www.facebook.com##DIV[id="u_jsonp_5_1v"][class="ego_section"]
www.facebook.com##DIV[class="_4-u2 mvm _5jmm _54bx _54bz clearfix"]
www.facebook.com##DIV[id="u_j_0"][class="ego_section"]
www.facebook.com##DIV[id="u_jsonp_2_n"][class="ego_section"]
www.facebook.com##DIV[id="u_jsonp_6_a"][class="ego_section"]
www.facebook.com##DIV[id="u_ps_0_2_4"][class="ego_section"]
www.facebook.com##DIV[id="u_ps_jsonp_4_2_3"][class="ego_section"]
www.facebook.com##DIV[id="u_jsonp_3_4r"][class="ego_section"]
www.facebook.com##DIV[id="u_ps_0_3_3"][class="ego_section"]
www.facebook.com##DIV[id="u_jsonp_19_a"][class="ego_section"]
www.facebook.com##DIV[id="u_jsonp_5_a"][class="ego_section"]
www.facebook.com##DIV[id="u_i_0"][class="ego_section"]
www.facebook.com##DIV[id="u_r_0"][class="ego_section"]
www.facebook.com##DIV[id="u_w_0"][class="ego_section"]
www.facebook.com##DIV[id="u_14_0"][class="ego_section"]
www.facebook.com##DIV[id="u_1a_0"][class="ego_section"]
www.facebook.com##DIV[id="u_1e_0"][class="ego_section"]
www.facebook.com##DIV[id="u_1i_0"][class="ego_section"]
www.facebook.com##DIV[id="u_1o_0"][class="ego_section"]
www.facebook.com##DIV[id="u_1s_0"][class="ego_section"]
www.facebook.com##DIV[id="u_1x_0"][class="ego_section"]
www.facebook.com##DIV[id="u_21_0"][class="ego_section"]
www.facebook.com##DIV[id="u_25_0"][class="ego_section"]
www.facebook.com##DIV[id="u_29_2"][class="ego_section"]
www.facebook.com##DIV[id="u_2e_0"][class="ego_section"]
www.facebook.com##DIV[id="u_2h_0"][class="ego_section"]
www.facebook.com##DIV[id="u_2l_0"][class="ego_section"]
www.facebook.com##DIV[id="u_2r_0"][class="ego_section"]
www.facebook.com##DIV[id="u_ps_jsonp_22_2_0"][class="ego_section"]
www.facebook.com##DIV[id="u_jsonp_2_77"][class="ego_section"]
www.facebook.com##DIV[id="u_m_0"][class="ego_section"]
www.facebook.com##DIV[id="pagelet_ego_pane"]
tablet-emulator.org##IMG[src="http://cdn.tablet-emulator.org/like-us-on-facebook.png"]
tablet-emulator.org##IMG[src="http://cdn.tablet-emulator.org/like-us-on-facebook.png"]
ipad-emulator.org##IMG[src="http://cdn.ipad-emulator.org/like-us-on-facebook.png"]
www.facebook.com##DIV[id="u_1c_0"][class="ego_section"]
www.facebook.com##DIV[id="u_jsonp_5_41"][class="ego_section"]
www.facebook.com##DIV[class="groupMemberSuggestionsList"]
www.facebook.com##DIV[id="u_jsonp_5_42"][class="groupRecommendationsList"]
www.facebook.com##DIV[id="u_jsonp_21_40"][class="ego_section"]
www.facebook.com##DIV[id="u_jsonp_21_42"][class="groupRecommendationsList"]
www.facebook.com##DIV[id="u_jsonp_24_1j"][class="groupRecommendationsList"]
www.facebook.com##DIV[id="u_jsonp_27_1i"][class="ego_section"]
www.facebook.com##DIV[id="u_jsonp_28_3b"][class="ego_section"]
www.facebook.com##DIV[id="u_jsonp_2_1m"][class="ego_section"]
www.facebook.com##DIV[id="u_jsonp_6_1m"][class="ego_section"]
www.facebook.com##DIV[id="u_c_0"][class="ego_section"]
www.facebook.com##DIV[id="u_10_0"][class="ego_section"]
www.facebook.com##DIV[class="_4-u2 _59ha"]
www.facebook.com##DIV[id="pagelet_suggested_events"]
www.facebook.com##DIV[id="u_1d_0"][class="ego_section"]
www.facebook.com##DIV[id="u_1m_0"][class="ego_section"]
www.facebook.com##DIV[id="u_0_27"][class="_5t-6"]
www.facebook.com##DIV[id="u_jsonp_16_1"][class="_5t-6"]
www.facebook.com##DIV[id="u_jsonp_5_26"][class="ego_section"]
mail.google.com##DIV[class="mq"]
mail.google.com##DIV[class="mq"]
www.facebook.com##DIV[id="u_x_0"][class="_4-u2 _b70"]
www.facebook.com##DIV[id="u_1i_0"][class="_4-u2 _b70"]
mail.google.com##DIV[class="mq"]
www.facebook.com##DIV[id="u_0_1j"]
www.facebook.com##DIV[id="u_jsonp_4_s"]
www.facebook.com##DIV[id="u_jsonp_27_s"]
www.facebook.com##DIV[id="u_jsonp_6_s"]
www.facebook.com##DIV[id="u_1k_0"][class="_4-u2 mbm _la _5jmm"]
www.facebook.com##DIV[id="pagelet_games_rhc"][class="pagelet"]
www.facebook.com##DIV[id="u_1z_0"][class="_4-u2 mbm _la _5jmm"]
www.facebook.com##DIV[id="u_e_0"][class="_4-u2 mbm _la _5jmm"]
mail.google.com##TR[class="aKA D6NH0b zE"]
mail.google.com##TABLE[class="F cf"]
www.facebook.com##DIV[id="u_g_0"][class="_4-u2 mbm _la _5jmm"]
www.facebook.com##DIV[id="u_35_0"][class="_4-u2 mbm _la _5jmm"]
mail.google.com##DIV[class="a2q a4T a6q"]
www.facebook.com##DIV[id="u_1a_0"][class="_4-u2 mbm _la _5jmm"]
www.facebook.com##DIV[id="u_1e_0"][class="_4-u2 mbm _la _5jmm"]
www.facebook.com##DIV[id="u_z_0"][class="_4-u2 mbm _la _5jmm"]
www.facebook.com##DIV[id="u_17_0"][class="_4-u2 mbm _la _5jmm"]
www.facebook.com##DIV[id="u_27_0"][class="_4-u2 mbm _la _5jmm _5qdv"]
www.facebook.com##DIV[id="u_27_0"][class="_4-u2 mbm _la _5jmm"]
mail.google.com##TR[class="aKA D6NH0b zE"]
www.facebook.com##DIV[id="u_31_0"][class="_4-u2 mbm _la _5jmm"]
mail.google.com##DIV[class="mq"]
www.facebook.com##DIV[id="u_3o_0"][class="_4-u2 mbm _la _5jmm"]
www.facebook.com##DIV[id="u_s_0"][class="_4-u2 mbm _la _5jmm"]
www.facebook.com##DIV[class="ego_section"]
mail.google.com##DIV[class="a2q a4T a6q"]
www.facebook.com##DIV[id="u_1u_0"][class="_4-u2 mbm _la _5jmm"]
www.facebook.com##DIV[id="u_w_0"][class="_4-u2 mbm _la _5jmm"]
www.facebook.com##DIV[id="u_13_0"][class="_4-u2 mbm _la _5jmm"]
www.facebook.com##DIV[id="u_1b_0"][class="_4-u2 mbm _la _5jmm"]
www.facebook.com##DIV[id="u_1h_0"][class="_4-u2 mbm _la _5jmm"]
www.facebook.com##DIV[class="_4_ck"]
www.facebook.com##DIV[id="u_2e_1"][class="_4-u2 _b70"]
www.facebook.com##DIV[id="u_jsonp_5_1"][class="_5t-6"]
mail.google.com##DIV[class="a2q a4T a6q"]
mail.google.com##DIV[class="a2q a4T a6q"]
www.facebook.com##DIV[class="_4-u2 mvm _5jmm clearfix _4gv- _54bx _54bz"]
mail.google.com##TABLE[class="F cf"]
mail.google.com##DIV[class="a2q a4T a6q"]
mail.google.com##DIV[class="aKm"]
mail.google.com##TABLE[class="F cf"]
www.facebook.com##DIV[id="pagelet_canvas_nav_content"]
mail.google.com##DIV[class="a2q a4T a6q"]
mail.google.com##TR[class="aKA D6NH0b zE"]
www.facebook.com##DIV[id="u_4t_1"][class="_4-u2 _b70"]
mail.google.com##TR[class="aKA D6NH0b zE"]
mail.google.com##TR[class="aKA D6NH0b zE"]
www.facebook.com##DIV[class="_4-u2 mvm _5jmm clearfix _4gv- _54bx _54bz _4-u8"]
www.facebook.com##DIV[class="ego_column pagelet _y92 _5qrt _1snm"]
www.facebook.com##DIV[class="_5mym"]
www.facebook.com##DIV[id="u_jsonp_4_27"]
www.facebook.com##DIV[class="ego_column pagelet _y92 _5qrt _1snm egoOrganicColumn"]
mail.google.com##DIV[class="a2q a4T a6q"]
mail.google.com##DIV[class="a2q a4T a6q"]
www.facebook.com##DIV[class="_4-u2 mvm _5jmm clearfix _4gv- _54bx _54bz carouselParent _4-u8"]
www.facebook.com##DIV[id="u_jsonp_2_1"][class="_5t-6"]
mail.google.com##DIV[class="aKB"]
@@|http://www.compuware.com/ceo-corner.html|$document
@@|http://www.compuware.com/ceo-corner.html|$document
@@|http://www75-98-168-16.a2hosted.com/cpwr2/2015/aaa-directory.html|$document
@@||www.compuware.com/$document
mail.google.com##DIV[class="a2q a4T a6q"]
@@|https://twitter.com/settings/widgets/new/user|$document
@@||twitter.com/$document
@@|https://mindchip.net/|$document
@@||www.pushbullet.com/$document
@@||www.mycokerewards.com/$document
@@||stonecipherfitness.com/$document
@@||www75-98-168-16.a2hosted.com/$document
@@|http://submissions.detroitnews.com/submission/the-pier-2/|$document
@@|http://www.hourdetroit.com/Hour-Detroit/July-2011/Best-Night/index.php?$document
@@|http://submissions.detroitnews.com/submission/a-different-view-along-woodward-downtown-detroit/|$document
@@||submissions.detroitnews.com/$document
@@||debbiefeldmanvo.com/$document
@@||themeforest.net/$document
@@||iconosquare.com/$document
@@||tshirtgraphics.co/$document
www.freep.com##OBJECT[id="prpswf"][name="prpswf"]
forum.xda-developers.com##DIV[id="purch_Y_R_1_1"][class="purchad"]
forum.xda-developers.com##DIV[id="google_ads_iframe_/10518929/tmnp.xda-developers/forumindex/a1-p1-r0_0__container__"]
forum.xda-developers.com##DIV[id="google_ads_iframe_/10518929/tmnp.xda-developers/forumindex/a0-p2-r0_0__container__"]
forum.xda-developers.com##DIV[id="google_ads_iframe_/10518929/tmnp.xda-developers/forumindex/a0-p1-r0_1__container__"]
forum.xda-developers.com##DIV[id="google_ads_iframe_/10518929/tmnp.xda-developers/forumthreads/a1-p1-r0_0__container__"]
forum.xda-developers.com##IFRAME[id="google_ads_iframe_/10518929/tmnp.xda-developers/forumthreads/a0-p3-r0_0"][name="google_ads_iframe_/10518929/tmnp.xda-developers/forumthreads/a0-p3-r0_0"]
www.facebook.com##DIV[id="u_ps_0_0_9"][class="_4-u2 mbm _5v3q _4-u8"]
forum.xda-developers.com##DIV[class="postbit-wrapper purch-box"]
forum.xda-developers.com##IFRAME[id="google_ads_iframe_/10518929/tmnp.xda-developers/forumthreads/a0-p1-r0_1"][name="google_ads_iframe_/10518929/tmnp.xda-developers/forumthreads/a0-p1-r0_1"]
forum.xda-developers.com##IFRAME[id="google_ads_iframe_/10518929/tmnp.xda-developers/forumthreads/a0-p1-r0_2"][name="google_ads_iframe_/10518929/tmnp.xda-developers/forumthreads/a0-p1-r0_2"]
www.metacafe.com##DIV[class="IL_BASE"]
www.youtube.com##IFRAME[id="ad_creative_iframe_1"]
www.youtube.com##DIV[id="goog_932638092_ima"][class="flash-container click-capture"]
forum.xda-developers.com##IFRAME[id="ox_5413051633_537733706"][name="ox_5413051633_537733706"]
forum.xda-developers.com##IFRAME[id="google_ads_iframe_/10518929/tmnp.xda-developers/forumindex/a0-p1-r0_0"][name="google_ads_iframe_/10518929/tmnp.xda-developers/forumindex/a0-p1-r0_0"]
forum.xda-developers.com##IMG[src="//cdn3.xda-developers.com/images/leaseweb175x50.png"]
www.ijreview.com##DIV[id="mga-ad-video_sidebar_2"][class="desktop_ad widget widget-ad"]
www.ijreview.com##DIV[id="div-gpt-ad-1393444597560-0"]
www.ijreview.com##DIV[id="div-gpt-ad-1413991104862-0"]
code.tutsplus.com##DIV[id="google_ads_iframe_/11757429/hub_development_leader_0__container__"]
code.tutsplus.com##DIV[id="google_ads_iframe_/11757429/hub_development_leader_0__container__"]
code.tutsplus.com##DIV[class="ad view"]
rockfile.eu##INS[class="adsbygoogle"]
www.dailydetroit.com##INS[class="adsbygoogle"]
##INS[class="adsbygoogle"]
##DIV[class="adsbygoogle"]
forum.xda-developers.com##IFRAME[id="google_ads_iframe_/10518929/tmnp.xda-developers/forumthreads/a0-p1-s2_1"][name="google_ads_iframe_/10518929/tmnp.xda-developers/forumthreads/a0-p1-s2_1"]
##IFRAME[id="google_ads_iframe_"]
##IFRAME[name="google_ads_iframe_"]
forum.xda-developers.com##DIV[id="google_ads_iframe_/10518929/tmnp.xda-developers/forumthreads/a1-p1-s1_0__container__"]
##DIV[id="google_ads_iframe_"]
www.dakotafinancialnews.com##DIV[id="itxtchrome"][class="itxtrst itxtrstdiv itxtsnapback"]
www.dakotafinancialnews.com##INS[id="aswift_0_expand"]
www.dakotafinancialnews.com##IFRAME[id="aswift_1"][name="aswift_1"]
www.dakotafinancialnews.com##DIV[id="itxttt"][class="itxtrst itxtrstdiv"]
blog.leapmotion.com##DIV[id="limk-widget-id-1801"][class="limk-widget limk-responsive-widget"]
detroit.cbslocal.com##DIV[class="str-adunit str-card-exp"]
detroit.cbslocal.com##DIV[id="ad_31"][class="cbs-ad-unit ad_gpt seasonal-lead-gen"]
detroit.cbslocal.com##IFRAME[id="wm_iframe_1667"]
detroit.cbslocal.com##IFRAME[id="google_ads_iframe_/4128/CBS.DET/news_1"][name="google_ads_iframe_/4128/CBS.DET/news_1"]
detroit.cbslocal.com##IFRAME[id="wm_iframe_287"]
detroit.cbslocal.com##IFRAME[id="google_ads_iframe_/4128/CBS.DET/news_7"][name="google_ads_iframe_/4128/CBS.DET/news_7"]
###google_ads_iframe_
##.google_ads_iframe_
##.node-ad
www.freep.com##SECTION[id="module-position-9"][class="front-galleries-module card-primary-suspender\n front-galleries-card-module"]
www.freep.com##IMG[class="gallery-photo horizontal"]
www.freep.com##DIV[class="gallery-photo-border"]
www.freep.com##DIV[class="slide gallery-viewport-slide horizontal active"]
www.freep.com##DIV[class="viewport gallery-viewport"]
www.freep.com##DIV[class="viewport gallery-viewport"]
www.freep.com##DIV[class="galleries hasendslate clearfix"]
www.freep.com##DIV[id="32444849"][class="front-gallery fgnf-gallery selected"]
www.facebook.com##DIV[id="GroupsRHCSuggestionSection"][class="_4-u2 _3-96 _4-u8"]
@@|http://insidetechtalk.com/page/3/|$document
@@||insidetechtalk.com/$document
@@|http://en.whaatsnew.com/2015/09/tv/110956|$document
@@|http://www.nbc.com/late-night-with-seth-meyers/video/kim-davis-freed-newark-joy-ride-monologue/2902334?$document
@@||angelgroupdetroit.com/$document
www.google.com##DIV[id="hs-social-search-container-div"]